In Your Hands Salt Lake City, UT September 1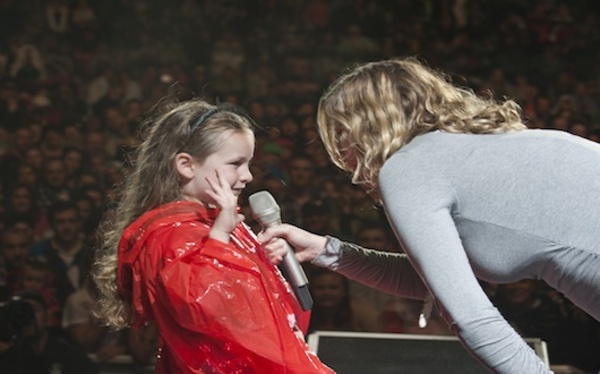 If you've never made a trip to Salt Lake City, UT we suggest planning one now! You'll find a beautiful city, eat some great food and most importantly meet some AWESOME Sugarland fans! Thanks for your loyalty even through the rain last night, Salt Lake. We love you!

We had some lookers in the crowd last night including a huge heap of you all wearing ponchos and cowboy hats. I think you may have started a trend! Jennifer wore her blue pants and a tight shirt showing off that cute little baby bump while Kristian sported his black cowboy hat, matching all of you!

During the song "Everyday America" we chose Casaya, age five, to hop onstage with us. She is a huge fan of Annie, our bass player, and even dressed up like her for Halloween. That made it so exciting to get her up there with all of us! Oh, and it was her birthday which made it all the more adorable.

We weren't kidding when we say the rain didn't stop you all. Last night's "Find the Beat Again" may have been the most interactive version of that song we've seen. There was endless amounts of stomping, dancing, and jumping all around.

Right before "What I'd Give" ramped up Jennifer turned to the crowd and said, "I didn't know you were so romantic, Utah!" Then Kristian took the reigns on a rocking solo midway through the song. We know they're both rockers at heart!

We had tons of great signs last night that will make our books for most creative. One requested "April Showers" and talked about how a man and his wife got married, divorced and then married again. Jennifer said "I love a good story! This is the fun part about the In Your Hands Tour. We can write a song and share a story with you, but since it is in your hands, you share a story with us! We like to learn about you too!"

Great baby gifts also came from Utah last night, even a yellow hand-stitched blanket. Jennifer will hold that one near to her heart! What a treasure! Another shirt was made that said "Nettles is my baby mama." Hilarious!

Last night was the final show for our friends Canaan Smith and Lauren Alaina. During "Stay" Canaan, Lauren, and Jason - Canaan's guitar player – came on stage and started to shave Jason's chest. This changed the lyrics to the song to "Why don't you SHAVE!" Oh how we love a good tour prank!

Our "Sing With Sugarland" winner was Brynne from Salt Lake City. She auditioned with her sister, but only she got on stage with us to sing "Baby Girl". Brynne swayed back and forth and sang the song like a true champ. At the end of it she got off and said, "Is this real? Did that just really happen?!"

We couldn't thank you enough for everything you did for us last night, Salt Lake! This is the last weekend of the tour, and we're so happy and honored to have spent one of the final nights with you all. Hopefully we'll be back the next time around! Share your favorite show moments in the comments below.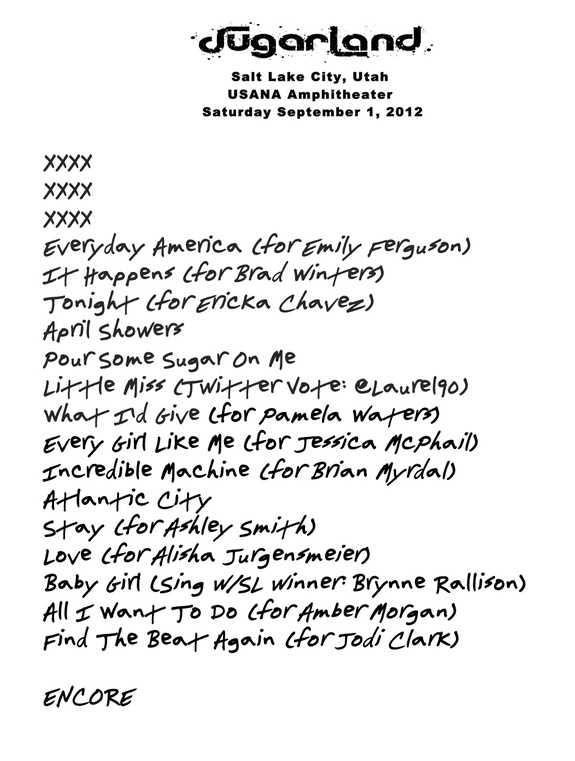 Photo Credit: Valarie Allyn Bienas