In Your Hands...Volume 4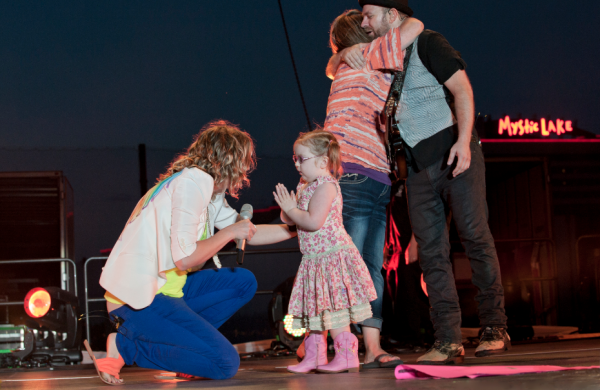 When we decided to put the show into your hands, we knew it would have effects of all different shapes and sizes. We would learn what songs you loved, what makes up the personalities of our fans, and how both of these elements affect the way you understand the meaning behind each of our lyrics.
One song that was particularly influential during the course of the tour was "Baby Girl" which was brought to life during the "Sing With Sugarland" contest. The song opened our eyes up to what the words meant for all of you and who considers themselves or someone they know their "Baby Girl."
A moment during the "Sing With Sugarland" contests that will forever be burned into our minds happened a few weeks ago in Prior Lake, MN at the Mystic Lake Casino. Jennifer invited four-year-old Avery and her mom Jennifer to the stage to help her sing this Sugarland favorite. Avery's story goes a little something like this:
At 22 months old her parents, Matt and Jennifer, noticed that Avery's smile was crooked, her balance was off, and her walk was very stiff. On April 30th, 2010 their world stopped when the family heard the words "inoperable brainstem tumor."
In an act of desperation, Matt and Jennifer decided to contact St. Jude Children's Research Hospital in Memphis, TN who accepted Avery as a patient with open arms. For the first time since Avery was diagnosed, the family heard these kind and comforting words from her St. Jude doctor, "We're not going to give up on your baby girl." After 2 months of treatment, the tumor has shrunk 85% and remains stable.
Thanks to St. Jude Children's Research Hospital and supporters like radio station K102, Avery just celebrated her 4th birthday. She is a happy little girl who loves her big sister and her family!
Avery's battle with cancer isn't over yet, help her and other patients at St. Jude win the fight against cancer. Donate now in honor of this sweet "Baby Girl" here.
Watch Avery's video:
Video Credit: Valarie Allyn Bienas