Sugarland Blogs: Now Featuring Katherine of Baton Rouge, LA!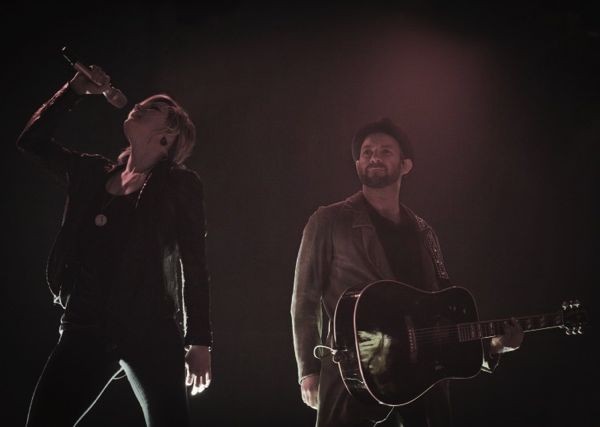 May 28, 2011 - Baton Rouge, LA
Blog by: Katherine
Being from New Orleans, I can't help but love a good party, but I am especially fond of SugarParties!
I have seen Sugarland play twice in Baton Rouge, once in 2010 with the amazing Indigo Girls at the RiverCenter, and again on May 28th, 2011 at Bayou Country Superfest in the legendary Tiger Stadium. That year, it was my third of five total times being a part of the Incredible Machine, and Sugarland did not disappoint! They gave us Louisianians the party we came for!
There is no sight more amazing then standing in the middle of the floor with 90,000 plus concert goers all around you on their feet, yelling at the top of their lungs as Michael Jackson's "Black or White" suddenly blares through the amplifiers. Though most of them had no idea how big of a treat they were in for, they immediately knew it was going to be something good. And just when you thought the crowd couldn't get louder, the entire stadium erupts as Jennifer and Kristian's voices sound for the first time that night: "Fire like lighhhhhhttttniiiiiiinnngggggg... Burning up the nigghhhhttttt..." It always amazes me how Jennifer and Kristian can work any stage they are set on, whether it be in a small bar or an enormous stadium, and make each and every person there feel their love for them through their music.
I don't think there was one dry eye (out of 180,000) in the stadium as Jennifer hit the high note in "Stay." The way her voice rang through the night into the dusk sky was quite a moment to remember. All weepy eyes were on her. I also loved that they decided to throw "Already Gone" back into this set list to mix it up a bit. That was very special since we hadn't heard it live in over a year. However, I think the most special moments that night came during the band intros. Though I may have been the shortest, I was definitely one of the loudest screamers as Jennifer introduced Annie and Travis to us. (Of course we already knew them!) Both Annie and Travis have deep Louisiana and, specifically, New Orleans, roots, and to see them come home is always a treat.
I am sure I was not the only one in the stadium singing "Who Says You Can't Go Home" back to Annie instead of Jennifer. Her smile through the entire song, and the moment she spotted me in the crowd in the front and waved to me, was priceless. Though I wish Bayou Country Supefest had allowed Sugarland a longer set list, and perhaps let them headline instead of Tim McGraw that night, it was still one of the most unique stops on the Incredible Machine Tour in my opinion. It was also one of the sweatiest stops, but hey, we're used to it down here! I saw the Tour eleven times, and this stop was definitely in the top five for me, despite my massive sunburn the next day.
I say this in every blog, but I mean it more and more each time. Thank you so much Jennifer and Kristian for sharing your gift with us. And the same goes for you, Thad, Annie, Travis, Scotty, and Brandon. You guys have no idea how much you have helped some of us get through certain obstacles in our lives with your music. Can't wait to see you on the road very, very soon! You are loved.
-Katherine
Thanks Katherine for your fantastic entry! To view other blogs from Baton Rouge, visit here.
Helpful Sugarlinks!
Get tickets for our 2012 tour!
Join our Sugarpass fan club
Sign up for our mailing list
Talk about it in our forum
Follow us on Twitter
Join us on Facebook