Indianapolis, October 28: Were you there?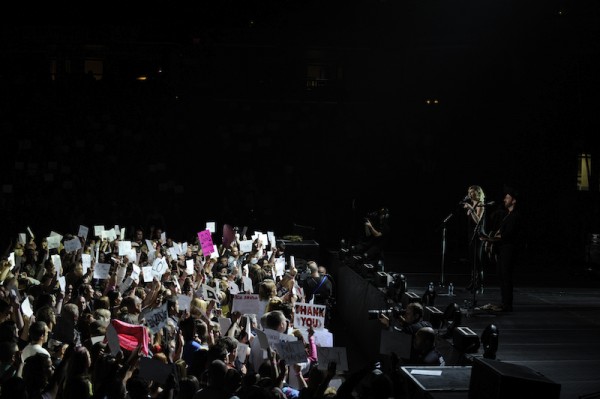 Indianapolis, we were so happy to be here with you this evening, and happy that you were here with us - as Jennifer said - for everything that meant tonight. It was an emotional show, as well as a celebratory show, celebrating life, and music, and healing. Thank you to our special guests, Rita Wilson and Corey Cox... and thank YOU for being a part of it.
Thank you for bringing signs of support for your loved ones and your fellow fans; thank you for the Little Miss Project Live, the posters tonight connected by red string; thank you for the giant LOVE flag the Sugarpit lifted for us. And most of all, thank you for singing and dancing and raising your voices to the heavens. We know that they were heard.
If you were a part of the "Incredible Machine" tonight, won't you please share your experience and memories in the comments?
Helpful Sugarlinks!
Order The Incredible Machine today!
Your complete guide to The Incredible Machine
Join our Sugarpass fan club
Sign up for our mailing list
Talk about it in our forum
Follow us on Twitter
Join us on Facebook
Find us on Ping
Photo Credit: Andrea Anderson