Bayou Country Superfest, May 28: Were you there?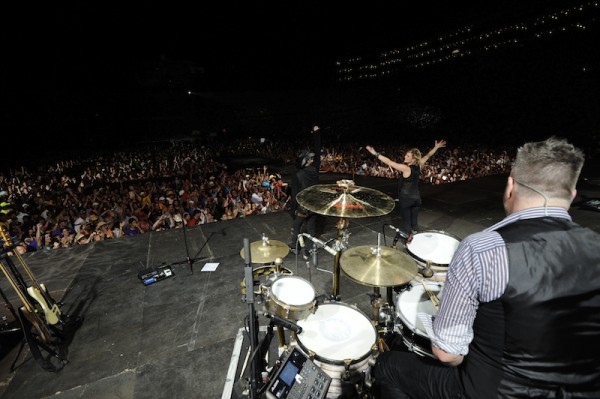 STADIUM SHOW ALERT! The second-annual Bayou Country Superfest at LSU's Tiger Stadium was our host this evening, and fun was most certainly had in the sun -- even by the people on the perpetually-sunny side of the stadium, who earned our undying respect by boiling like crawfish all day and still being ready for a dance party during the "Everyday America" remix. (Oh yeah, we saw you loving that "9 to 5.")
We shared a bill tonight with Trace Adkins, Tim McGraw, and many more, including a host of musicians who played the Fan Fair in the parking lot before the gates of the stadium opened. Nice job with the tailgating btw, LSU fans! Never seen so many RVs with big-screen televisions and barbecues actually BUILT IN. That's hardcore.
We'll have a Fair & Festival Report video for you tomorrow with the highlights of the day -- this week, it'll be hosted by our own Annie Clements, a Louisiana native who sat in alongside her father before taking the Sugarland stage. Stay tuned for that, won't you?
And yes, there was another great night of the Incredible Machine Tour -- note the slightly-tweaked set list -- that started with the LSU Fight Song and featured Jennifer and Kristian dancing down the familiar runway of Kenny Chesney's set (he plays tomorrow) into the crowd to get up close and personal with the fans. Maybe a little too personal: At one point, Jennifer noticed a male fan waving a giant plastic stud, er, horse, and ended up accepting a pink gumball-machine engagement ring from him in return. "You're gonna need a lot of therapy," she told the lucky (?) gentleman in response to the proposal. Didn't we tell you dreams come true in Sugarland? (Okay, yes, the whole thing was a big joke, and they're not really engaged, don't stress out... but it was that kind of party here on the Bayou.)
Were you a part of our 41,000-strong crowd tonight? The comments are open... come tell us about your trip to Bayou Country Superfest!!
Helpful Sugarlinks!
2011 Incredible Machine Tour: On sale now!
Check out our 2011 Incredible Machine Tour dates
Order The Incredible Machine today!
Your complete guide to The Incredible Machine
Join our Sugarpass fan club
Sign up for our mailing list
Talk about it in our forum
Follow us on Twitter
Join us on Facebook
Find us on Ping
Photo Credit: Valarie Allyn Bienas