Sugarland UK & Ireland Promo Tour Diary, Part 2: Ireland's Late Late Show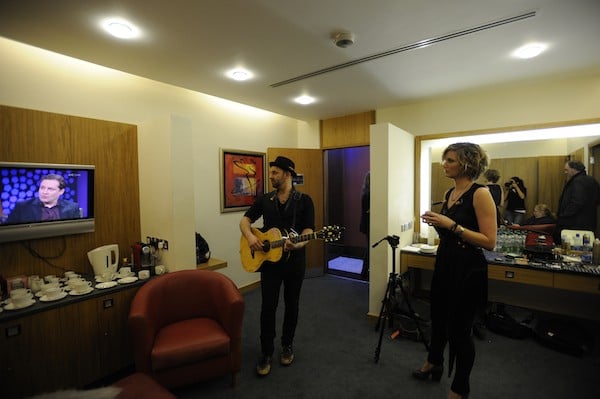 Our 2011 U.K./Ireland Promo Tour rolled on over the weekend with a stop on Friday in Ireland, where we played that country's Late Late Show -- the oldest chat show in the world. [Watch our appearance here!]
The acoustic performance we did for the News of the World last week has also reached the internet, but it is housed behind a registration wall. If you'd like, sign up and watch it here.
It was so windy on Friday in Dublin that water was actually blowing horizontally out of fountains. There was something very gray and Irish about the weather the entire time we were in country, actually, which really added to the mood. (Kristian did manage to keep his hat on, regardless. He's a pro.)
The bus picked us up to head to Late Late Show rehearsals early in the day, and after several run-throughs of "Stuck Like Glue" in rehearsal with local musicians who jumped in on accordian, guitar, and drums, we'd gathered quite the crowd of crew and staff sitting in the audience, tapping their toes to the tune. We also gained two new fans: twin brothers named John and Edward Grimes -- a.k.a. former X-Factor contestants Jedward -- who were taping a different show in the building and hung out to chat with our digital media department for a bit in the hallway. We would attempt to describe Jedward, but we'd not do them justice -- thank goodness they were willing to say hello to our tour diary cameras so you can get the full effect. Not pictured: their very shiny shoes, labeled "John" and "Edward," except John was wearing Edward's and Edward was wearing John's, so if you ever run into this pair on the street, don't trust the shoes. Ask who's who. They are very friendly and entertaining young lads.
[Photo above: Jennifer and Kristian at The Late Late Show, watching the broadcast backstage.]
Our performance of "Stuck Like Glue" on the show was short but sweet -- loved the whistles from the crowd, perhaps the Irish equivalent of "wooooooooo"? -- and gave us plenty of time to finally get our Guinness on. You'll see a bit of footage of our night "pubbin' it" (as Jennifer might say) in the video below, but as is always the way with such things, much of that experience is best left in the golden haze of memory, rather than the harsh glare of the video camera. Thanks to the group of wonderful locals who hung out with us instead of getting annoyed when we more or less invaded their table, and to our Irish chaperones, who didn't let us get into any trouble. Dublin, we'd like to come back and get "locked in" with you any time.
It took us the full day on Saturday to get back to London -- high winds again! -- and yesterday was a day off. When consulted, the most popular answer for what everyone did with their personal time was "Walk around a lot." There is so much to see in this town -- historic museums, street markets, great fashion and peoplewatching -- and we've not even scratched the surface. Looking forward to more free time this week!
Finally, today marked the official U.K. release of The Incredible Machine, and we spent it doing radio and TV interviews across the land. More footage and photos soon!
Meanwhile: Did you hear us on your local station? Who went out and got the album? What's your favorite song so far? If we came back for some proper shows this fall, is that something you might be interested in?
More from Sugarland's 2011 UK/Ireland Promo Tour:
Day 1: London's News of the World
Helpful Sugarlinks!
2011 Incredible Machine Tour: On sale now!
Check out our 2011 Incredible Machine Tour dates
Order The Incredible Machine today!
Your complete guide to The Incredible Machine
Join our Sugarpass fan club
Sign up for our mailing list
Talk about it in our forum
Follow us on Twitter
Join us on Facebook
Find us on Ping
Photo Credit: Valarie Allyn Bienas