Sugarland to headline first-ever ACM Fan Jam!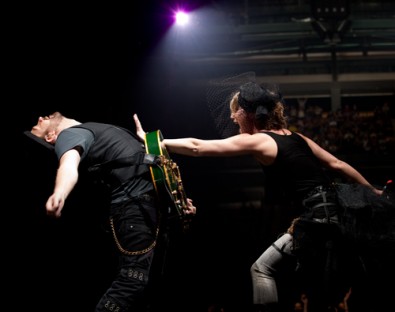 The Academy of Country Music and dick clark productions announced today that Sugarland will headline the first-ever ACM Fan Jam, a fans-only live concert event taking place in Las Vegas during and after the 46th Annual Academy of Country Music Awards, broadcast Sunday, April 3, 2011 at 8:00 PM live ET/delayed PT on CBS.
"We sell out our Awards show tickets within minutes of going on sale, every year," explains Bob Romeo, CEO of the Academy of Country Music. "With Sugarland's help, the Academy is answering the demand of more and better access to the Awards show with the Fan Jam, with a family-friendly ticket price and a promise that this experience will be like no other in ACM Awards history."
"I am wound up about the ACM Fan Jam," said Jennifer Nettles. "It's going to be like hosting our own ACM party for the fans. They'll get to see the show AND have their own private show in the same evening! It's like having your biscuit and eating it too, all in one big jar of Fan Jam!"
Tickets for ALL Academy of Country Music events in April will be on sale beginning Wednesday, Jan. 19 at 10:00 AM PST at Ticketmaster.com, including the 46th Annual Academy of Country Music Awards, ACM Fan Jam, and Girls' Night Out: Superstar Women of Country, taping on Monday, April 4 and featuring an A-list cast in tribute performances to country music's most amazing female performers.
The ACM Fan Jam will take place at the Mandalay Bay Resort & Casino both during and after the ACM Awards from the MGM Grand Garden Arena, and will give fans the ultimate opportunity to be part of the LIVE telecast. Throughout the three-hour live show from the MGM Grand Garden Arena, there will be performances from the Mandalay Bay Events Center by Sugarland and other top-tier music acts, to be announced at a later date.
The ACM Fan Jam will include three LIVE remotes into the 46th Annual ACM Awards telecast—one for each hour of the show—and will also include a profusion of entertainment, including live performances by upcoming country music acts, prizes and special giveaways only for attendees, such as autographed guitars, trip packages to country music events and merchandise. Fans at the ACM Awards wear cocktail or dressy attire, but at the Fan Jam, concert attire is key because the night continues with many more live performances and appearances after the Awards' taping ends.
For more information on the ACM Awards, visit ACMcountry.com, and follow the Academy on Twitter at @ACMawards for more immediate updates -- and keep it right here on Sugarlandmusic.com for everything you need to know about the Fan Jam!
So... who feels like joining us in Vegas, baby?
Helpful Sugarlinks!
2011 Incredible Machine Tour: On sale now!
Check out our 2011 Incredible Machine Tour dates
Order The Incredible Machine today!
Your complete guide to The Incredible Machine
Join our Sugarpass fan club
Sign up for our mailing list
Talk about it in our forum
Follow us on Twitter
Join us on Facebook
Find us on Ping
Photo Credit: Valarie Allyn Bienas