"VH1 Divas: Salute the Troops" airs Sunday night! Watch our behind-the-scenes video from rehearsals here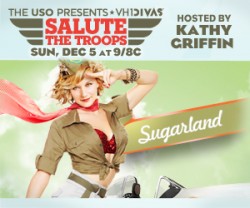 We spent yesterday at Marine Corps Air Station Miramar outside San Diego, rehearsing for VH1 Divas: Salute the Troops (airing Sunday, Dec. 5 at 9/8c on VH1).
Miramar is of course best known as where they shot Top Gun -- which meant we were walking around with "Take My Breath Away" stuck in our heads all day -- but we hope it will soon be known as where Sugarland, Katy Perry, Nicki Minaj, Keri Hilson, Grace Potter, and Kathy Griffin rocked the socks off the crowd. (Paramore is on the show, too; they're performing from overseas.)
We're taping the show tonight, but yesterday was a total blast: We got to stand out on the airfield and watch jets take off and land (SO. LOUD.), meet our fellow performers, and learn what "Stuck Like Glue" sounds like with a guest rapper. (Ladies and gentlemen: MC Lyte!) There were dance numbers and costume changes and amazing vocals from all the women involved. Between rehearsals, Jennifer got to take some time with the Marines in attendance, signing autographs and posing for pictures before heading back up on stage to try out an amazing cover of a classic diva song. No spoilers on that one, folks -- you're gonna have to tune in to find out what it is.
What we can tell you is that the show is shaping up to be incredible, and we are so very honored to be involved -- what a great privilege to play on this military base as a benefit for the men and women of the armed forces. Check out the video below to see a little bit of our day, and don't forget to tune in Sunday night for the show!
Meanwhile, talk about it in the comments: Who's watching? Any guesses on what classic diva number Jennifer is covering?
Helpful Sugarlinks!
Order The Incredible Machine today!
Your complete guide to The Incredible Machine
Talk about it in our forum
Join our Sugarpass fan club
Sign up for our mailing list
Follow us on Twitter
Join us on Facebook
Find us on Ping
Video directed by Valarie Allyn Bienas