Jennifer Nettles shares her recipes for Thanksgiving Dinner 2010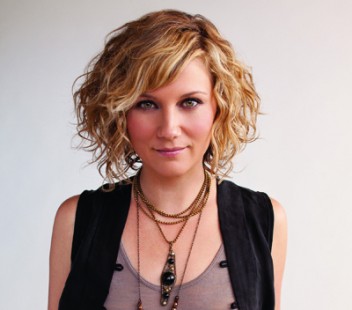 As many of you know, I enjoy cooking. For me it is both creative and therapeutic. There are few things more relaxing or satisfying than chopping, and few things more gratifying than watching your homemade veggie pot pie come out of the oven like a hot, fluffy ambassador of seratonin.
(For all the moms out there I'd like to offer a pause and a word of thanks. I recognize it's easy for me to enjoy cooking this way as I don't have kids yelling at me that they wish they had fish sticks or Captain Crunch. If you want my opinion, well, when they can cook, they can decide what they eat. So, make your mother's recipe for tripe if that's what you like. Or, if you want peace, hell, give them the Captain Crunch. It won't kill them, at least not immediately, and frankly, it was all my brother would eat and he's now a fully grown human. Sidebar.)
And speaking of cooking for others: There are few things I love more than a small dinner party at my house with good food, good company and good wine.
I like looking through cooking magazines, and I have a notebook filled with the recipes I tear out and want to try. There's an added sense of accomplishment when I find things that are healthy AND interesting AND low-carb. (While I am a carboholic, my job and its visibility -- causing a fear of seeing myself as "wide" on all the now-wide-screen TVs -- has me aware that the second helping of mac n' cheese doesn't have to be in that video... but my ass does.)
For those of you who might be interested, I thought I'd offer my recipe plans for my Thanksgiving contribution. My offerings this year to my mother's beautiful Thanksgiving table will be:
-Roasted Cauliflower with Tahini Sauce
-Roasted Brussel Sprouts (I was going to make the cauliflower in lieu of the sprouts this year, but when I told my mother she was upset and made an actual request for the sprouts. To have a request from my mother for a dish thrilled me to no end.)
-Caprese Salad (Again, another family request. I'm beginning to think my culinary skills might actually be weaving their way into my family's table tapestry.)
-Sweet Potato Pie (This one I haven't made before, so I'll have to give you an update as to how it goes.) (UPDATE, 11/25: You can see pictures of Jennifer's pie progress and the finished product here: http://twitpic.com/photos/Sugarlandmusic)
Mind you, these offerings will be joining some other traditional fare which my mother and other guests will bring to the table:
-Turkey
-Ham
-Dressing (which my mother freezes and schleps all the way from Holt's Bakery in my hometown of Douglas, Georgia. That's how good it is. As a side note, it was brought to my attention this year by a loved one from north of the Mason-Dixon line that not everyone knows what "dressing" is. A Southern Food primer: "Dressing" is the Southern version of what others might call "stuffing." The difference between dressing and stuffing is that dressing is not actually stuffed in the turkey and typically is much wetter and, in my opinion, more delicious than its fancy filler counterpart called stuffing.)
-Baked Chicken Salad (which will also be made in a baked tuna salad version for me.)
-Cornbread
-Coconut Delight
-Who knows what everyone else is bringing :-)
The recipes for the dishes I'll be making will follow at the end of this blog. Let me know if you try any of them and enjoy them. I hope you all have a wonderful Thanksgiving holiday.
- Jennifer
PS: For those of you braving the shopping crowds of Black Friday, I will not be joining you in the trenches. My plan is to sit on my couch, in my PJs, with a cup of tea, and surf the internet for much of my holiday shopping. I recommend it. Some places even wrap the pieces for you. Quite efficient for the Virgo. Cheers!
Roasted Brussel Sprouts w/Pecans
2 lbs brussel sprouts trimmed and halved
1 cup pecans, roughly chopped
2 Tbsp Olive Oil
2 cloves garlic, finely chopped
Kosher salt and black pepper
-Heat oven to 400. On large rimmed baking sheet, toss brussel sprouts, pecans, oil, garlic, 1/2 tsp salt, and 1/4 tsp pepper. Turn the brussel sprouts cut-side down.
-Roast until golden and tender, 20-25 min. (Depending on your oven. I like to lean towards 25 min or until some have a little dark char in places.)
Roasted Cauliflower w/Tahini Sauce
1/4 cup extra virgin olive oil
4 tsp ground cumin
2 heads cauliflower, cored and broken into 1 1/2" florets
Kosher salt and black pepper to taste
1/2 cup tahini
3 cloves garlic, smashed and minced into a paste
Juice of 1 lemon
-Heat oven to 500. Toss together oil, cumin, cauliflower, and salt and pepper into a large bowl. Transfer to 2 rimmed baking sheets; spread out evenly. Bake, rotating pans from top to bottom and front to back, until cauliflower is browned and tender. 25-30 min. (Again, I like a little char here and there.)
-Meanwhile, combine tahini, garlic, lemon juice and 1/2 cup water in a small bowl and season w/ salt. Serve cauliflower hot or at room temperature w/tahini sauce.
Sweet Potato Pie
Crust
1 cup (4 oz) pecan halves
11 whole graham crackers, broken
4 tsp minced fresh ginger
2 Tbsp dark brown sugar
1/2 tsp kosher salt
1/2 tsp ground cinnamon
6 Tbsp unsalted butter, melted
Filling and topping
Four 8oz sweet potatoes
1/2 cup dark brown sugar
3 large eggs
2 Tbsp bourbon
1/2 cup heavy cream
1 cup granulated sugar
1/3 cup water
3 large egg whites
Pinch of salt
1 tsp pure vanilla extract
Make the crust:
1. Heat oven to 325. In a pie plate, toast the pecans for about 10 min, until fragrant and browned. Let cool completely.
2. In a food processor, combine pecans, graham crackers, ginger, brown sugar, salt and cinnamon; pulse until crumbs form. Add butter and process til incorporated. Press the crumbs evenly into a 9 or 10 inch pie plate. Bake crust for about 25 min, until lightly browned and fragrant. Using a rubber spatula, press down the crust and let cool completely. Wipe out the processor.
Meanwhile, make the filling and topping.
1. Prick the sweet potatoes all over with a fork and cook in a microwave on high power for 10 minutes, until just softened. Transfer sweet potatoes to the oven and roast for about 10 min longer, until soft. Let cool. Then, scrape out the flesh; you should have about 2 1/4 cups.
2. Transfer sweet potato to the food processor and puree until smooth. Add the brown sugar, eggs and bourbon and process until blended. Add the heavy cream and process until incorporated. Pour the filling into the crust and bake for about 50 min, until set and the top looks dry; cover the crust edges with foil if they darken. Let the pie cool completely. Preheat the broiler.
3. In a small saucepan, combine the granulated sugar and water and bring to a boil. Cook over high heat without stirring until a candy thermometer inserted in the syrup registers 240 (about 5 min). Meanwhile, in the bowl of a standing mixer fitted with the whisk, beat the egg whites with the salt until soft peaks form. With the machine on, carefully drizzle in the hot syrup and beat at high speed until the whites are stiff, glossy and warm to the touch (about 5 min). Beat in the vanilla.
4. Mound the meringue over the sweet potato filling, swirling it decoratively. Broil the pie 4-6 inches from the heat for about 30 seconds, until the meringue is light browned. Cut the pie into wedges and serve.
Make ahead. The pie can be refrigerated overnight!
Caprese Salad
This can be made easily with as much or little as you like.
Fresh tomatoes (heirlooms are lovely if you can get them)
Fresh Mozzarella (I'm talking balls here, not shredded!)
Fresh basil (or dried can be sprinkled at the end, but fresh is way better!)
Balsamic vinegar
Olive oil
Salt/pepper
Cut tomatoes and mozzarella into slices (about 1/4 or 1/2 inch thick)
Stack tomato and mozzarella, in alternating slices. 2 each.
While stacking, remember to salt and pepper the tomatoes before placing the mozzarella.
Garnish with fresh basil (can also sprinkle some dried oregano if you like)
Drizzle with balsamic vinegar and olive oil.
Helpful Sugarlinks!
Order The Incredible Machine today!
Your complete guide to The Incredible Machine
Talk about it in our forum
Join our Sugarpass fan club
Sign up for our mailing list
Follow us on Twitter
Join us on Facebook
Find us on Ping
Photo Credit: Dana Tynan