Sugarland's fourth album 'The Incredible Machine' is FINALLY HERE!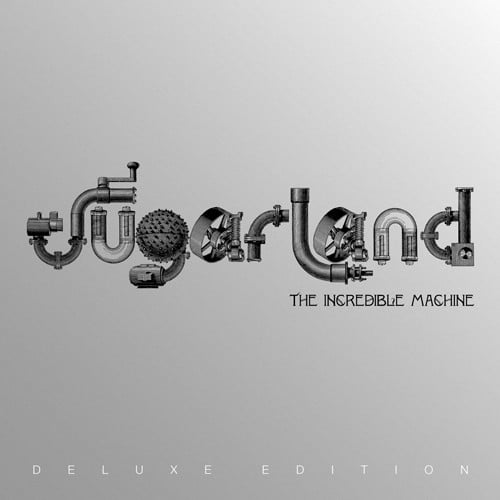 It's the moment we've all been waiting for: The release of The Incredible Machine!
Whether you're an old friend or a new fan who's just finding this band for the first time, we can't wait for you to hear what our fourth album has in store. Here are some links to help you explore the music:
Read the official bio for the new record.
Read our Building the Machine series, only available right here on Sugarlandmusic.com. Jennifer and Kristian take you inside the inspirations and influences for the new record, in their own words. Our little online book-club-for-an-album will continue into the future with posts on the songs themselves in the weeks to come.
Watch the trailer for Blood Love Hope Lust and Steam, the 40-minute documentary that accompanies the deluxe and iTunes LP versions of the album. Go behind the making of The Incredible Machine and our 2010 tour!
You can sneak a preview of the Living Liner Notes here. Available exclusively on iTunes LP, the Living Liner Notes are making-of video narratives that tell the stories behind the songs on the new album. They're an iTunes first, and we're so proud to present them.
Subscribe to our new iTunes podcast! The first item available for FREE download is a personal video introduction from Jennifer and Kristian to the idea behind the Living Liner Notes. The same video can also be seen on our Ping profile.
Read the Sugarland Billboard cover story here.
And if you missed the big event, you can watch clips from our AmEx Unstaged performance on our YouTube/VEVO page. Originally live-streamed from the Best Buy Theater in NYC on the eve of The Incredible Machine's release, Sugarland Unstaged gives you the chance to experience the awesomeness of our touring show from the comfort of your couch, and hear several of the new songs performed for the first time anywhere!
Whew. AND NOW: The comments are open, and we want to hear from YOU. Talk about the new album here, then send this post to your friends so they can learn about the new music and share their thoughts, too! We are so, so happy to put The Incredible Machine in your gracious hands. Thank you, as always, for supporting what we do.
Helpful Sugarlinks!
Order The Incredible Machine today!
Join our mailing list
Follow us on Twitter
Join us on Facebook
Find us on Ping